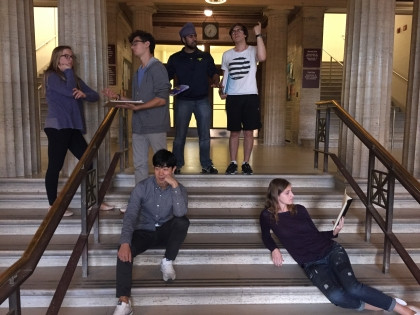 The Most Compelling Case: On Bathrooms and the UM Ethics Bowl
Cullen O'Keefe, former co-lead of the University of Michigan Ethics Bowl team and 2016 U of M graduate, walks us through his 'most compelling case' on transgender civil rights. He also discusses how an Ethics Bowl works and what it's like to be on the U of M Ethics Bowl team. 
O'Keefe selected a case from the 2015 National Ethics Bowl championship, which U of M placed 14th in, as his most compelling case. The case primarily concerns controversial 'bathroom laws' and other regulations meant to block transgender individuals from using the bathroom of the gender they identify as. On the podcast, he walks us through multiple different ways to approach the issue, focusing on an analysis looking at the rights of an individual to freedom and autonomy. O'Keefe also discusses the ins and outs of a Ethics Bowl itself — how the rounds work, what the judges are looking for, and how the U of M team takes on preparing for cases. He also shares with us how he came to philosophy, and what motivated him to pursue it at U of M (hint: it's the podcast series you're listening to right now).
O'Keefe is entering his second year at Harvard Law School, and is involved in a number of campus organizations, including serving as the incoming president of Harvard Law School Effective Altruism. In his capacity as president of HLS EA, he recently penned this piece about their mission. For more information on joining the U of M Ethics Bowl team, email [email protected]. And for more with Cullen, check out our Sketchy Conversations interview with him.