Team Entry and Registration Form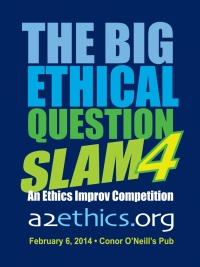 The Big Ethical Question Slam
An Ethics Improv Competition
TEAM ENTRY AND REGISTRATION FORM
To enter a team into the 2014 Big Ethical Question Slam, please download and complete this entry form and send it along with a $35 registration fee to the address below. You may also complete the form online, and send a check to the address below or pay with Paypal after submitting the form. 
A2Ethics.org
2014 Big Ethical Question Slam
P.O. Box 131384
Ann Arbor, MI 48113   
All entries must be received by midnight Friday, January 24, 2014.
Please note: The Slam venue can accommodate six teams. Many more than six teams wish to enter the Slam each year. To resolve this happy dilemma, A2Ethics.org resorts to the philosopher's hat to randomly select the teams accepted for entry in a given year. Choosing teams from the hat offers every team registered by the deadline to have a chance to participate. The one entry that is guaranteed, if the team so chooses to register and compete, is the defending champion from the previous year. For teams not chosen from the philosopher's hat,  the $35.00 registration fee will be refunded.  We hope, however, that teams who have not been selected will join in the competition by participating as members of the audience.