The 2014 Big Ethical Question Slam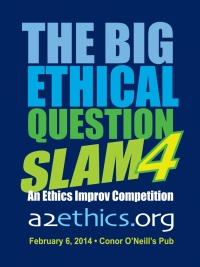 Thursday - February 6, 2014, beginning at 8PM.
Conor O'Neill's Traditional Irish Pub
318 S. Main Street - Ann Arbor
So you think you're better than average at doing the right thing? And you think your advice about right and wrong is right most of the time?
Then we've got a competition just for you. And an opportunity for you and members of your team to walk away with the grand prize in a contest we plan to make worthy of the All World Greatest Ethical Thinkers League.  Think: Socrates. Kant. Mill. Confucius. Gandhi. Arendt. Rousseau. All have prizes named for them. And one of them, Rousseau, got into the League by winning first prize in an 18th century big question essay contest.
Now it's your turn-and your time-to compete in the 21st century version.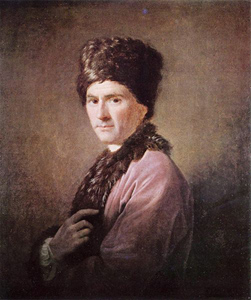 Rousseau's winning essay changed his
world and ours.
Prizing Innovation: Why Not One for Answering the Big Ethical Questions?
Innovation and the search for original and creative thinkers is all the rage these days. Just look at the innovation prizes being offered by the Gates Foundation, not to mention the U.S. Government. True, we're not offering millions of dollars. But we are putting up $600 for new thoughts and your best spontaneous ethical advice. Plus we're giving you and your fellow ethical thinkers an opportunity to make your views known.
What Exactly Is the A2Ethics.org Big Ethical Question Slam?
It's a think-up. A sound-off. A show-off. A play-off. A competitive ethics improv. It's a fundraiser and image-builder for A2Ethics.org. An event that shines a spotlight on the big issues of our time. It's a slam for the deep and the shallow. A challenge to moral rectitude and moral turpitude.
And it's where you'll want to be: talking points and principles in good company on February 6, 2014, from 8-10PM. Either as an audience member. Or as part of a team competing for a share of money and mindfulness.
Slam Questions: Asking the Public to Join in the Big Thinking
The Big Ethical Questions for the Slam will come from ideas contributed by the public and sent to our A2Ethics.org website.
There are a few rules. Submitted questions must:
Be about issues with an ethical spin, that is, they must address our various notions of what we think is right and wrong or what we believe is good and bad conduct.
Be really big-picture  in their focus, with either broad local significance,  national consequences or international impact.
Be expressed in no more than 150 words.
Just to get the big and ethical ideas flowing, consider a few possible examples:
          Are zoos unethical?
          Is humor a global good?
          Should we pursue immortality as a societal goal?
          Is there such a thing as forbidden knowledge?
          Should "love conquer all"?
All questions for the Slam must be submitted no later than midnight Friday, January 10, 2014.
And please note: We do not guarantee that all submitted questions will be asked, nor do we assure the exact wording of the question will be followed.  And, sorry, but no prizes will be awarded for questions that are submitted or chosen.
You can submit your Questions for the Slam now.
Slam Judges
The Slam organizing committee consists of A2Ethics.org Board members, who will also choose the three independent Slam judges invited to preside over the Slam competition.
Slam judges will have local affiliations, a long-standing interest, commitment, sensitivity and open-mindedness toward ethics matters and issues. None of the judges will be affiliated with A2Ethics.org.  All of them will be gifted with a good sense of humor and a friendly attitude toward improvisation.
You can take a closer look at the Slam Rules now.
Slam Eligibility
The Slam welcomes teams of at least 2 but not more than 6 people. All Slam contestants must be 21 years or older.
The Slam is perfect for and encourages teams working in and fielded from: local businesses, K-12 school, college and university departments, trade associations, unions, nonprofits, healthcare organizations, and government agencies.
Groups of friends are also urged to compete.

You can register your team for the Slam now. 
Slam Prizes
The winning team will receive a $600 Grand Prize. In addition, first- and second-place team members will receive a small philosopher refrigerator magnet. All proceeds beyond the $600 Grand Prize will be used to support the work of A2Ethics.org. 
The Slam Audience
Audience members are encouraged to cheer on their favorite teams and give moral support to the losers. Tickets can be purchased at the door for $5 each.
Equally important, audience members are key participants in the Slam. The coveted People's Choice Certificate is awarded to the Slam team the audience scores highest in its  own estimation and tabulation what it considers the best arguments and answers to the questions.   
So start thinking, reasoning, pondering, and musing about all questions Big and Ethical...AND BEGIN ASSEMBLING YOUR TEAM NOW!
For details, contact A2Ethics at: [email protected].