Presenting the 2017 Michigan Ethics Bowl Schools
The 2017 Bowl Line-up...
Ann Arbor Greenhills School is the 2017 Michigan High School state champion and current holder of The Hemlock Cup. Last year, the Greenhills Blue team went to the Nationals in North Carolina with cautious expectations. As it turns out, the team came in 4th place out of 22 teams from across the U.S. Greenhills is a founding member of the Michigan Bowl League. 
In 2017, several veterans from the state champion team return to defend the Cup and their title. Veteran coach Mark Randolph has created a buzz and an excitement around the Ethics Bowl, so much so that a few students have jumpstarted an Ethics Youth Council at the school. 
Team Names: Greenhills Blue and Greenhills Green. 
Faculty Coach: English teacher and tennis coach Mark Randolph.
U-M Philosopher Coach: Chris Nicholson and Mercy Corredor.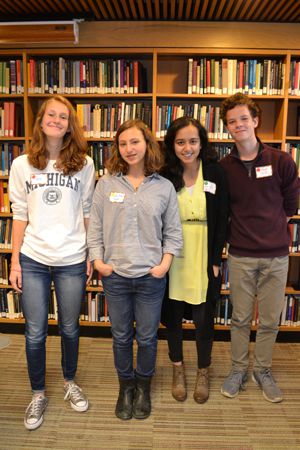 Ann Arbor Huron is known for its creative team names. Last year, they called themselves Aristotle's Heirs and the SocRATric Sensations. (Their school mascot is, after all, the River RATS). Two of their team members have been on the team since 9th grade. Huron is looking to improve its record from last year, when both teams earned spots in the quarterfinals. They also have a strong novice team ready to take the helm when the veterans graduate. 
Team Names: Kantsequentialists and  Philoslothicals.
Faculty Coach: Social Studies teacher Katie Jones.
U-M Philosopher Coach: Kevin Craven. 
Ann Arbor Pioneer won the 2015 Bowl after besting the other Pioneer team in the final. At the Nationals in Chapel Hill, the Michigan champs made friends with teams from the Kirby School from Santa Cruz, California. Pioneer is distinguished in having 2 Ethics Bowls alums now majoring in philosophy at the University of Michigan. One of their teams this year is intriguingly named Jefferson Street. We are still trying to figure out why. We know, however, there are good reasons for it. Pioneer is a force! 
Team Names: Out of Kantrol and Jefferson Street
Faculty Coach: History teacher Brent Richards
U-M Philosopher Coach: Alice Kelley
Saline High School is a founding member of the Michigan Ethics Bowl. At the first Bowl, both their teams earned spots in the quarterfinals. After taking a year off, Saline is BACK! Led by first year Ethics Bowl coach Matt Hamilton, we do not know what to expect from Saline. But we know the teams will be well-prepared and primed. Saline has a strong winning tradition in debate under the guidance of Ethics Bowl coach Shelly Venema.  
Team Names: Face the Consequences and Kant Even See Them Coming
Faculty Coaches: ELA Next-Gen Learning Facilitator Matt Hamilton and English teacher Shelly Venema
U-M Philosopher Coaches: Lingxi Chenyang and Francesca Bunkenborg.
Washtenaw Technical Middle College is a founding member of the Michigan Ethics Bowl League. This year, their faculty coach Eli Zemper is on maternity leave. The team decided, however, that they wanted to continue the tradition and their Ethics Bowl legacy. With the support of the WTMC administration, the WTMC team is managing the responsibilities exceptionally well. And this team is returning ALL of its quarterfinalist winners from last year. Watch out!  
Team advisor: English teacher Katie Glupker.
U-M Philosopher Coach: Umer Shaikh.
Saginaw Arts & Sciences Academy has the distinction of having the largest high school philosophy club in Michigan. They don't just do ethics. Under the guidance of their coach,Delta University Professor Kirk Wolf, their activities include lectures on the philosophies of science and music. This year, they are bringing one team, gamely called Free Won't. WILL they take the Hemlock Cup this year? 
Team Coach: Delta University Humanities Professor Kirk Wolf.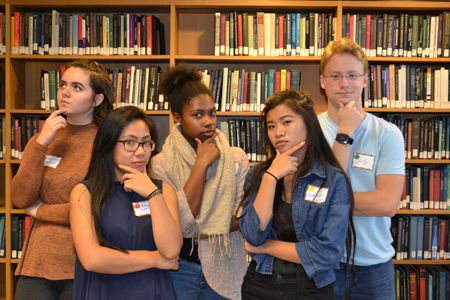 Wayne Memorial High School joined the Bowl League in 2016. And what an impression they made! Since all of their members were seniors, they had to start over again this year. We are sure that some football coaches wish they had recruiters like the Wayne senior Bowlers! This year, they are coming to the Bowl with enough members for 3 teams. Of course, we will only be hearing the arguments of The Herd and The Pack from Wayne. 
Team faculty coach: English teacher David Kangas.
U-M Philosopher Coach: Caroline Perry.
Ypsilanti Community Schools are a founding member of the Michigan Bowl League. Their team is guided by Gail Wolkoff, director of the outstanding youth community organization Dedicated to Make A Change. Meetings at the Clubhouse with the Ypsilanti Ethics Bowl team are always lively and energizing. And the Ypsilanti Ethics Bowl alums are making names for themselves. This fall, a graduate of the Bowl served as a moderator for a well-received candidates' forum for the Ypsilanti School Board. In 2017, Ypsilanti will be introducing a new team to the Bowl. 
Team Name: Ypsilanti Youth
Team Faculty Coaches: DTMAC Director Gail Wolkoff and DTMAC staff member Dominic Buffa.
U-M Philosopher Coaches: Brendan Mooney and Eduardo Martinez.