About The 2015 Big Ethical Question Slam
"Bringing together this many people to talk about ethically focused questions—all from different backgrounds, from organizations with different mission statements—you're going to hear something new."
    --Erin Mattimoe, Slam MC
How the Slam Works
Big Ethical Questions for the Slam come from ideas contributed by the public and can be proposed to:  Submit a Slam Question, [email protected], or tweet at @a2ethics with hashtag #slamquestions.
Teams can enter the Slam by registering by the published deadline. A few weeks before the competition, teams are sent the Big Ethical Questions that will be used for the competition.
On Slam night, each team responds to several of the questions by presenting their ideas to a panel of  three independent (and incorruptible!)  judges and the Slam audience. The judges determine the ultimate winner of the Slam, basing their decision on their evaluation of which team has the most clear, systematic and comprehensive understanding of the ethical dimensions of the question. The team with the most points receives a cash prize and the highly coveted Philosopher's Hat. Audience members also cast a vote for the People's Choice Award, by choosing the team they believe offers the most compelling responses to the Big Ethical Questions. 
For more information, please go the Slam Rules.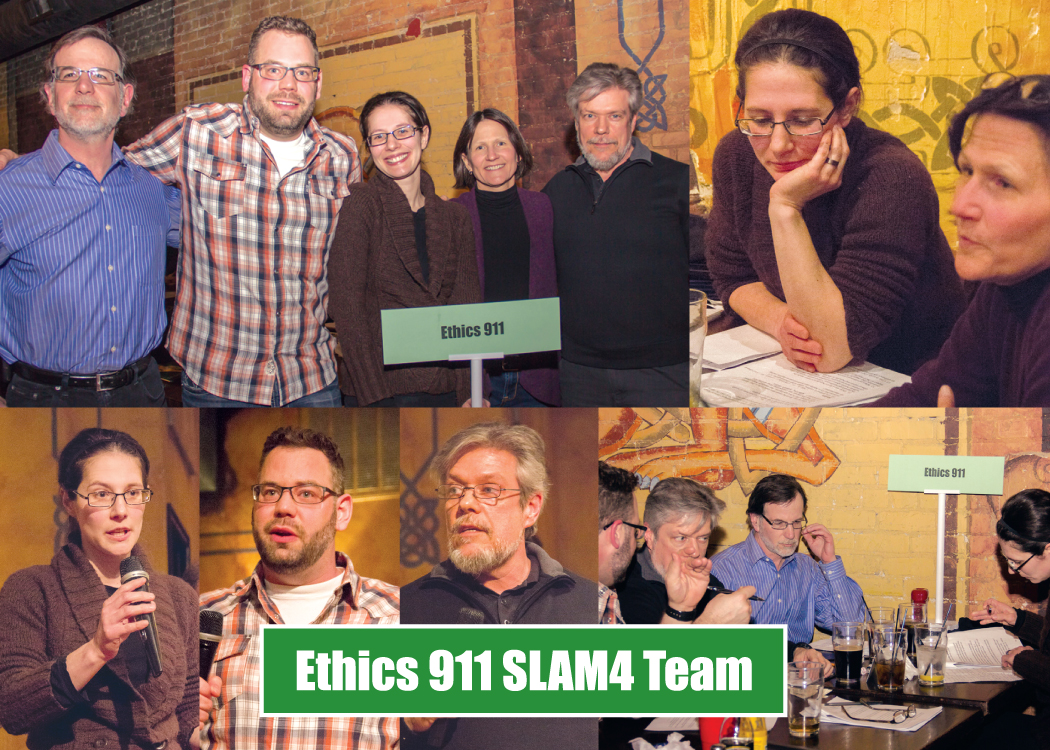 The Teams: Who's Eligible to Participate
We welcome Slam teams of at least 2 but not more than 6 people. All contestants must be 21 years or older.
The Slam attracts a wide variety of contenders. Typically, teams are drawn from local businesses, K-12 schools, college and university departments, trade associations, unions, nonprofits, healthcare organizations, and government agencies.
Groups of friends are also urged to compete. The team registration fee is $35.
Interested? Please Enter and Register for the Slam.
Judges
The A2Ethics Slam organizing committee is responsible for choosing the three independent judges who preside over the competition.
Slam judges have close ties to the local community, along with an abiding interest in ethics matters and issues. None of the judges is directly affiliated with A2Ethics.org. However, all of them are gifted with a healthy sense of humor, an open mind and a friendly attitude toward improvisation.
The Slam Audience
The Slam is open to the public. Tickets can be purchased at the door for $5 each.
Audience members are a vital part of the Slam experience. They cheer on their favorite teams and offer moral support to the losers. Equally important, they—and they alone—decide the winner of the People's Choice Award.
The Prizes
The winning team receives a $600 Grand Prize. In addition, second-place team members are awarded a $100 prize and a philosopher refrigerator magnet. The People's Choice Award team winner receives breakfast gift cards from a local restaurant. 
Any proceeds beyond the $700 prize money are used to support the work of A2Ethics.org.
"People have gotten away from this long history of gathering in places for issue-based discussions. The Greeks had their Acropolis, and the Romans had their Forum. At least we can do it here in our Irish pub."
    --Karen Kerry, Slam supporter
Related Podcasts