The 2015 Big Ethical Question Slam
You're Invited to
THE BIG ETHICAL QUESTION SLAM
This coming February 5th, more than a hundred people will make their way through the snowy streets of downtown Ann Arbor to the warm lights and welcoming taps of Conor O'Neill's Pub. There, over a drink and a snack, they'll listen, laugh, ponder, applaud, agree and disagree as teams of locals tackle some of the most compelling and confounding ethical issues of our time. We hope you'll be there when the fifth annual Big Ethical Question Slam takes place. 
So what exactly is a Big Ethical Question Slam...and why do we call it that?
It's a "think-off" with oversized aspirations. That's the BIG part. It's also a congenial community get-together over drinks and eats to discuss the whats, hows and whys of doing the right thing. That's the ETHICAL QUESTION component. 
And it's an evening that makes an impact. That's where the SLAM comes in. 
The Big Ethical Question Slam gives teams a chance to compete for a $600 Grand Prize...and a hat. Not just any hat, but the Philosopher's Hat. It also gives the winners bragging rights as the best big ethical question slammers in the city for a full year.  
It's a one-of-a-kind event you won't want to miss. And it's coming soon. So save the date: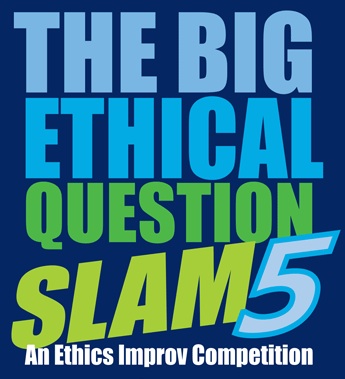 Thursday, February 5, 2015
Starting at 8PM
Conor O'Neill's Traditional Irish Pub
318 S. Main Street - Ann Arbor