About The Slam Teams
In 2011, the Slam's first year, we hosted nine teams—which we quickly discovered was too many. The resulting crowd strained the pub's fire code and continued into the wee hours of the night. Too long for working folk. 
The winner of the 2011 Slam was the law firm of Dickinson, Wright. Living up to their team moniker—The Dickinson, Wright Do-Wrighters—the lawyers did "wright" and divided their prize money evenly among the competitors.
The following year, we set ourselves a limit of six teams. And we've stayed with that number ever since. We find it creates just the right mix of energy and intimacy—permitting communication between teams and allowing audience members to hear answers without much difficulty.
These days, Slam teams include both rookies and veterans. We love that mix. Some teams have been with us since the beginning—The Dispute Resolution Center, Arbor Hospice and Greenhills School. Others are brand new, among them our 2014 Slam winners, the faculty of Washtenaw Technical Middle College.
The Team Lottery
Much as we'd like to accommodate all teams, reckless growth is not what we envision. Therefore, because the Slam is always over-subscribed, we've established an annual lottery to determine who ultimately competes. If a team does not make it into the final six, we issue registration fee refunds.
For Slam 6, we will accept team registrations until midnight Friday, January 22, 2016
The Big Nine
At A2Ethics, we have a soft spot in our hearts for those first-year teams who ventured out on a cold winter's night to participate in a new and untested event-- the world premiere of the Big Ethical Question Slam. They included:

Arbor Hospice Ethics
Community High School Zebras
Dedicated to Make a Change
The Dispute Resolution Center (The DRCs)
Dickinson, Wright Do-Wrighters
Greenhills School Gryphons
Intentional Communities of Washtenaw
Next Generation Philanthropists
The Hypoethicals (Dept. of Diversity and Community Involvement at Eastern Michigan University)
 
---
Winners Circle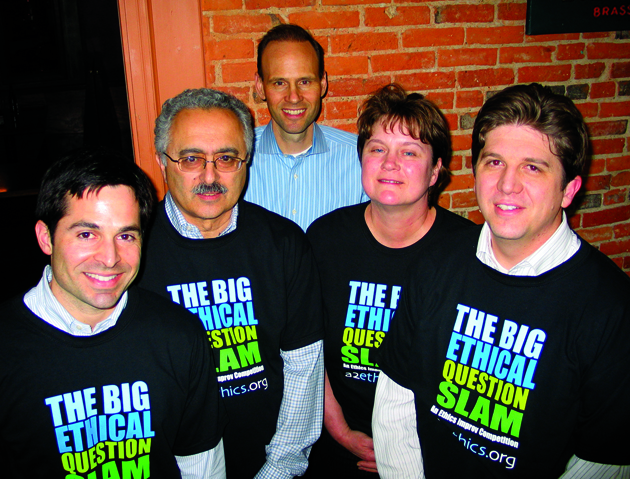 2011 Winner: Dickinson, Wright Do-Wrighters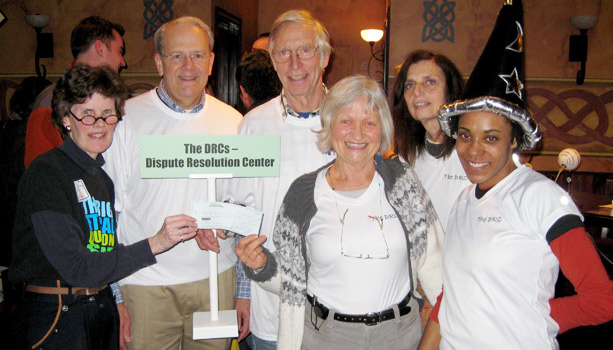 2012 Winner: The DRCs-The Dispute Resolution Center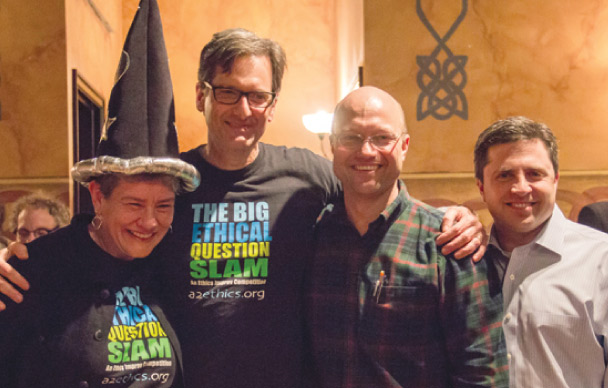 2013 Winner: Greenhills School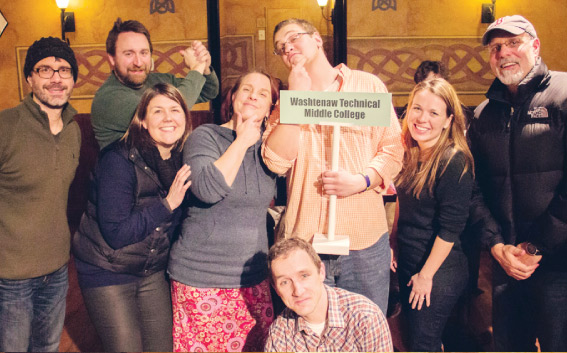 2014 Winner: Washtenaw Technical Middle College