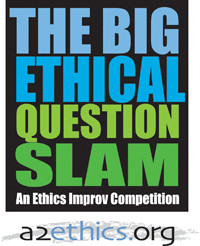 The Big Ethical Question Slam: World Premiere Podcast
Forty Big Ethical Questions. Ranging from the justice of job bonuses to whether assisted suicide is ever justified.
Nine competing teams and their supporters. Covering the local nonprofit horizon. The sympathetic team of health care practitioners at Arbor Hospice. The eloquent arbitrators of The Dispute Resolution Center. Newer organizations, such as the dedicated educators from the social responsibility-oriented youth group, Dedicated to Make a Change L3C. Progressive-minded parents from the Intentional Communities of Washtenaw, an independent living community for developmentally disabled adults. Exceptional and accomplished teachers representing Community High and Greenhills School. Committed friends and colleagues championing the social justice goals of the Eastern Michigan University Diversity and Community Involvement Department. Generous community foundation members from the innovative giving circle known as the Next Generation Philanthropists. And finally, to keep us all legal, the lawyers from the Ann Arbor office of Dickinson Wright, whose name the Dickinson Do-Wrighters, set the tone for an evening of serious fun at the Arbor Brewing Company. 
Three judges. From the fields of business, philanthropy and health care, who in addition to major accomplishments and recognized awards, all have long-standing records for ethical practices in their work.
All coming together to try something new for their diverse good causes and to be the first to celebrate and compete in the world premiere of the Big Ethical Question Slam. Improvising for principles. Slamming for the greater good.  
Which teams gave the best responses? What did the judges have to say? Which questions were the really big ones? Who took home first prize?  
You 'coulda been a contender' for the first ever Slam. Now you can listen to it.