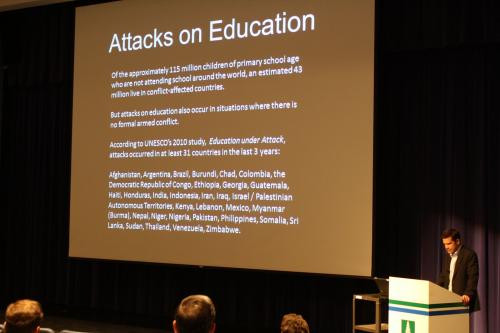 Documenting the Talk of School Children: The Human Rights Field Researcher Listens
In October 2010, A2Ethics.org had the distinct honor of hosting Bede Sheppard, the senior researcher in the children's rights division of Human Rights Watch. We know it as the Sheppard conference. Not only did Bede visit Ann Arbor to give a keynote lecture for our Ethics Without Borders Education Project, he taught a class of high school students about his work, talked again about it at lunch, and then attended a reception and dinner, where we asked him the same questions. If that weren't enough to talk about, he graciously committed to this podcast on the ethics of certain aspects of his work as a human rights field researcher, where he is currently investigating and chronicling the problem of targeted attacks on schoolchildren, teachers and school facilities in conflict-affected regions in south Asia. 
The kind and quality of talk Bede listens to and for--is ethically fraught. In this podcast, we focus on the ethics of talking, in Bede's case, most often to children whose schools have been attacked, or who have been the subjects of attacks.
We explore some of the ethical dimensions of having to rely on the talk of translators and how this relationship impacts his  approach to his work. We delve into some of the principles that human rights researchers follow to ensure standards of evidence, transparency and accuracy. We ask him how he deals with people in the areas where he is assigned, especially those who do not want him to talk. To anyone, let alone children. 
Finally, we learn from him about the courage of the children and others he listens to and the risks they take to talk with him.  Bede is constantly aware that he is travelling through these regions and able to leave. But the children and others who risk talking to him, cannot or will not. He thinks most about their future safety and worries their talk will put them in danger.
The time we spent with Bede compels us to think not only about the ethics of learning about the violent incidents that befall school children living in zones of conflict, but about our broader responsibilities to protect children, long after they are done talking.