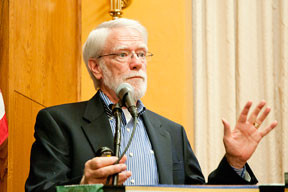 The Public Life of the University of Michigan's Center for Ethics (in Public Life)
Higher education institutions, and the eclectic ethics centers attached to them, are central to the nurturing and growth of a flourishing ethics economy.  A2Ethics.org has identified this economy as one where people take career pathways that involve working with ethics ideas, and whose professions and livelihoods are ethics-related.  We have been documenting this economy whenever we get a chance to talk with people helping to build this ethics economy.
There are several academic ethics centers in Michigan. Among the newest is the University of Michigan's Center for Ethics in Public Life. The Center's first Director, Professor John Chamberlin of the Gerald Ford School of Public Policy, shared with us how an ethics start-up in academia can also flourish: by creating and sustaining an environment where students can have a life and a livelihood that offers private happiness and the pleasures of public engagement.
We think a flourishing economy and livelihoods of any kind and of any choice...need flourishing lives. It is not so surprising then that among the endeavors of the Center is a 2010 fall theme-semester for the ages, focusing on a question for all ages: what makes life worth living? 
What makes our own exploration and mapping of the Michigan ethics economy worthwhile are the conversations we get to have, including this one with the University of Michigan Center for Ethics in Public Life Director John Chamberlin.