Human Rights Researcher Bede Sheppard Visit to Ann Arbor: Photo Gallery
Friday, March 18, 2011 - 5:31pm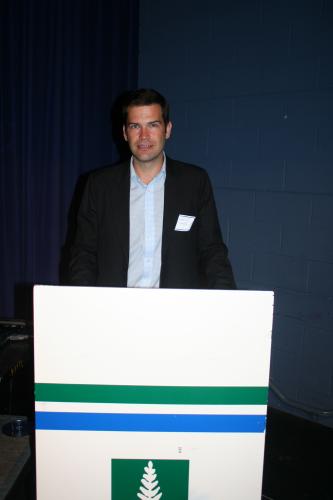 The second A2Ethics.org Ethics Without Borders on global education issues featured Bede Sheppard, the senior researcher in the children's rights division of Human Rights Watch. Bede's keynote speech on the disturbing and growing problem of schools considered as battlegrounds in conflict-affected regions left us with much to think about and with much more to do to help publicize the work of Bede and his colleagues.
We did have a few hours to give Bede a tour of the city and to show him a few of the area's more curious landmarks. The day of Bede's speech, appropriately enough, was the 50th anniversary of the speech John F. Kennedy delivered on the steps of the Michigan Union, which  inspired the creation of the Peace Corps. An auspicious salute we think. 
While Kennedy's speech did not include cell phone photo ops or videocasting, Bede's speech was both livestreamed and archived. And, of course, we tookseveral photos in various stages of his speechifying.  As well as photos of Bede at the many before-and-after-the- speech events and teaching engagements we signed him up for, all of which he affably attended, including as shown here, a reception and dinner with several Ann Arbor secondary school educational leaders, teachers and special guests.  Needless to say, his being a good sport endeared us all to him, and we hope Bede will return to Ann Arbor soon and often.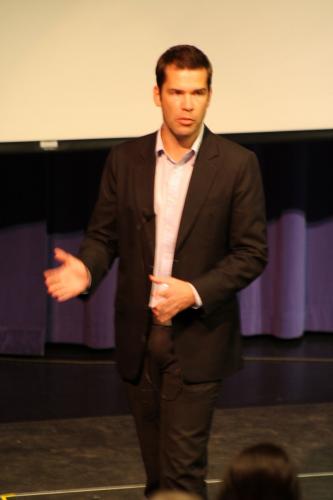 His topic is becoming increasingly well-documented thanks to Bede and his colleagues and to organizations such as Human Rights Watch and UNESCO. To become more informed about the worldwide problem of attacks on education, these resources are available: 
http;//www.hrw.org/en/world-report-2011/schools-battlegrounds
http://unesdoc.unesco.org/images/0018/001867/186732e.pdf