Themes
We believe having a strong presence in the community is as essential as our online and web-based resource collections. Our home base is a world-renowned educational hub with several ethics research centers and world-class scholars. Here, businesses have a tradition of social responsibility, and the community a legacy of support for social innovations. For our work and programs, it is nearly an ideal place. And in this place-- and in our role as social connectors--we are growing a new "ethics network" of organizations and individuals.
To date, our programs and networks include:
Generational Leaders, a locally-based mentoring program that connects 20- and 30-somethings with community members in their 50s and 60s. The goal of the program is to identify and exchange ideas about common ethical challenges.
Our Ventures
Inspired by generations of individuals who have shown moral courage in speaking out and taking a stand, we have identified four themes, four basic human rights that offer us key opportunities for our advocacy work. These include: the right to have access to culture; the right to an education free from violence; the right to water; and the right to open dissent and equitable participation in civic life.


Our advocacy work focuses on ventures that can--and will--make an impact in these four areas. With this focus in mind, we have launched our first venture, Ethics Without Borders, a biannual community event recognizing individuals whose work across the world emboldens us to speak out for what we value most in our own community.
And we have no doubt that supporting culture, education, civic participation, and water justice are at the heart of our local area history--and values that we can share with the world.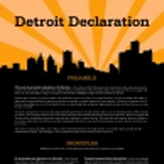 Everywhere we look, culture is under attack. In 2003, the world watched, helpless and outraged, as Iraq's National Museum in Baghdad was looted. The failure to protect cultural monuments and sites in conflict zones poses troubling ethical issues. Yet, the individuals taking a stand against such attacks get meager attention. The premiere Ethics Without Borders event, "Stealing Culture" spotlighted individuals in the archaeological community working to end the destruction of our common cultural legacy.   
Cultural depredation takes many other forms: privatization, pervasive commercialism, and increasingly, the elimination of public funding. No one knows this better than the citizens of Michigan. Here in our own backyard, the history and culture of our most iconic city, Detroit, is in danger of being dismantled. Many area residents are taking a stand and asking vital ethical questions: How can and should we help revitalize our local treasures? What are our public responsibilities toward the arts and culture? And what can we learn from individuals here and around the world who are standing by culture and caring for it as a common good? 
Saving Schools and Scholars from Violence
The steady and unrelenting worldwide rise in targeted school bombings in contemporary warfare is a deep concern for A2Ethics.org. How can and should we help to stand by scholars, both students and teachers, and protect them from becoming casualties of war? The well-respected independent NGO, Human Rights Watch, has taken the lead in reporting on these bombings and other acts of inhumane conduct against educators all over the world. The Ethics Without Borders event, "Protecting Education Against Attack," called attention to the unheralded work of their children's rights researchers in documenting student and teacher stories that, in some cases, are successfully exposing the perpetrators and their actions.
One other way to deter such violence is to join the campaign to establish a global symbol, similar to the ubiquitous Red Cross/Red Crescent, designating schools as protected zones of nonviolence. What better way for A2Ethics.org to publicize efforts to protect schools from attack than to invite local students to participate in a symbol design exhibit? Below are a few of the designs that seniors at Ann Arbor Greenhills School sketched to contribute to this campaign.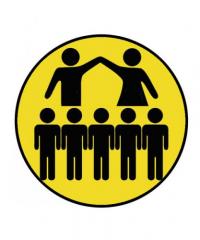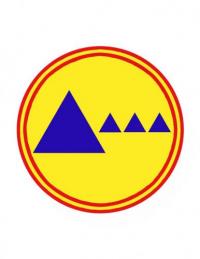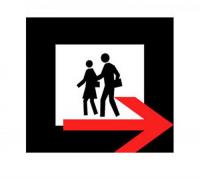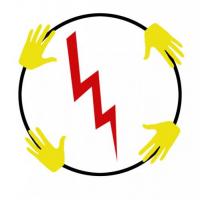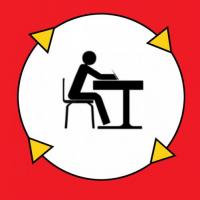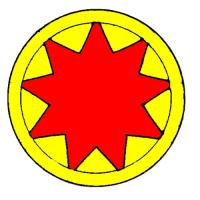 Water for All in the World
Our geographic area is literally and figuratively defined by water; from the Huron River that runs through our communities to the nearby lakes and inland oceans known as the Great Lakes. These teeming waterways have given rise to a vast number of water-mindful organizations and individuals, many of them examining the complex ethical problems surrounding the right to water here and around the world. A2Ethics.org plans to wade in. Future Ethics Without Borders events will headline the water stewards whose policies advance the principle of global water justice and clean water for all. 
Civic Ethics: Cultivating A New Field
Recent technological innovations have sprouted whole new fields. Companies and careers that were nonexistent a decade ago are cropping up everywhere. Prominent among them are careers with social responsibility portfolios. It seems as if everyone wants to be a social capitalist or social entrepreneur: backing and forming businesses that make money, but more importantly, are also doing good. A2Ethics.org is part of this worldwide movement. We exist to make the public aware of and to encourage ethically responsible social innovations. We passionately believe they can---and will do good. Yet, they can only be and do good when everyone has fair access to the resources, opportunities and the new roles afforded by social innovations.  
We are also living in an age of profound income inequality and economic insecurity. Transient, temporary, free-lance and contract work is the norm. Private safety nets are vestiges of a previous era. Public safety nets and community services have been increasingly hollowed out, decimated or outsourced. The reality is that vast numbers of people are living through an economic drought that has resulted in the uprooting of whole communities.   
The challenge--and our goal--is to ensure this new world of work, increasingly defined by technological advances and disruptions, is accompanied by social innovations that benefit everyone and not just the few. With this goal in mind, we see the need for a new type of public educator--the independent civic ethicist--whose primary role is to champion formal public discussion and equitable opportunities to assess the ethical impact of public and private sector innovations, from local government to global corporations. Future A2Ethics.org events will focus on developing the foundations of the field of public ethics through research and in cultivating partnerships with organizations connected to their communities and who are offering careers that prize giving voice to the role of ethics in our professional and public lives.