PRESS RELEASE: A "CONSEQUENTIALICIOUS" EVENT
Michigan's Largest High School Ethics Bowl Ever Welcomes 14 Schools, Nearly 150 Students, 50 Judges and 26 Faculty Coaches
Ann Arbor, MI – On the weekend of February 22 and 23, U-M's Mason Hall became the setting for an exuberant festival of ethical discussion for philosophers-to-be as A2Ethics and partners from the University of Michigan Department of Philosophy Outreach hosted the 7th annual Michigan High School Ethics Bowl. This year's event, the largest gathering to date, included 14 schools from 8 counties throughout the lower peninsula. Among this year's competitors were four new schools: Ann Arbor Skyline, Avondale High School, Beaverton Junior/Senior High, and University Liggett School of Grosse Pointe.
The numbers were impressive: Nearly 150 students; 30 volunteers; 26 faculty and philosopher coaches; 2 visual scribes; and 50 judges who included community leaders and faculty from 12 universities and colleges.  Notably, for the first time, several Ethics Bowl alums, all of them currently students at the U-M, worked as volunteers and stopped by to cheer on the teams.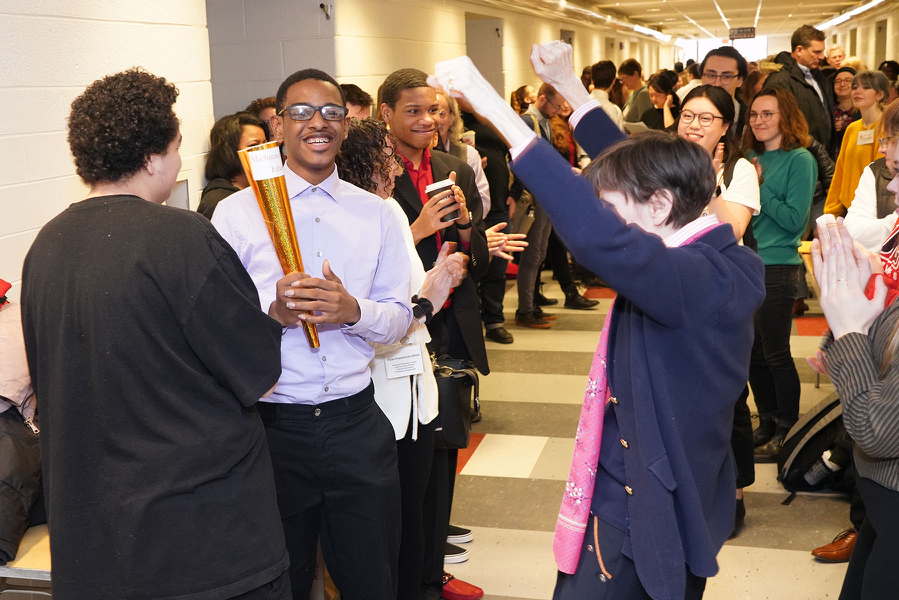 Opening ceremonies at the 7th annual Michigan High School Ethics Bowl: As a gesture of friendship, a paper torch was passed from one team to another, as shown by the Oak Park High team Kant Touch This! getting ready to pass the torch to the AA Pioneer High team, the 2019 state champion.  
Case studies this year spanned a diverse range of topics, from gene testing to the ethics of zoos, from plagiarism to uterus transplants, and from the use of children as bone marrow donors to the ethical challenges of providing protection for international peacekeepers. Michigan is unique in the nation for its case study contributors, all of whom either reside in—or are affiliated with—the state. Despite the potentially contentious subjects, Bowl organizers point out that the event is not designed to pit one perspective against another, but rather to encourage students to consider differing viewpoints and flex their analytical skills on the relevant ethics issues in each case.
In all, 14 high schools were represented, and some fielded more than one team for the first time:
§  Ann Arbor Greenhills (Greenhills Green, Greenhills Blue )
§  Ann Arbor Huron High (A La Descartes, Just Platonic)
§  Ann Arbor Pioneer High (The Purple Gang, Pioneer White)
§  Ann Arbor Skyline (Locke-y Charms, Gott Fried Chicken?)
§  Avondale High School  (Moral Masters, Plato's Anatomy)
§  Beaverton Junior/Senior High (Consequentialicious)
§  Oak Park High School (Kant Touch This!)
§  Portage Northern (Philosoraptors)
§  Saginaw Arts & Sciences Academy/SASA (SASA Team 2)
§  Saline High School (We Kant Decide, Final Kantdown)
§  University Liggett School (Philoso-Five)
§  Washtenaw International High School/WIHI  (Socrataries of State, Pas-cal Me Maybe)
§  Wayne Memorial High School (The Herd)
§  Ypsilanti High School (Ypsilanti Youth)
In all, 21 teams participated in Saturday's four opening rounds. Among the seven teams competing in the semifinals on Sunday were WIHI (two teams), SASA, Oak Park, AA Huron, AA Pioneer, AA Greenhills, and Avondale, one of the four schools new to the competition.
At the closing ceremony Sunday afternoon, AA Greenhills Green was named the winning team, making this the third time in seven years that the school has claimed first place. Runner-up was The Purple Gang from AA Pioneer High. The prize for best team name went to Consequentialicious, from Beaverton Jr/Sr High School, participating in the Bowl for the first time.
Along with The Hemlock Cup, Greenhills Green won the right to represent the state of Michigan at the National High School Ethics Bowl, originally to be held from April 17-20 at the University of North Carolina in Chapel Hill. In years past, Michigan teams have won the Spirit of the Bowl award and have placed in both quarterfinal and semifinal matches at the national competition.
Due to the coronavirus pandemic, the 2020 national competition has been cancelled. As disappointing as that is for everyone affiliated with the Bowl movement, plans are being made for the return of the National Bowl next year.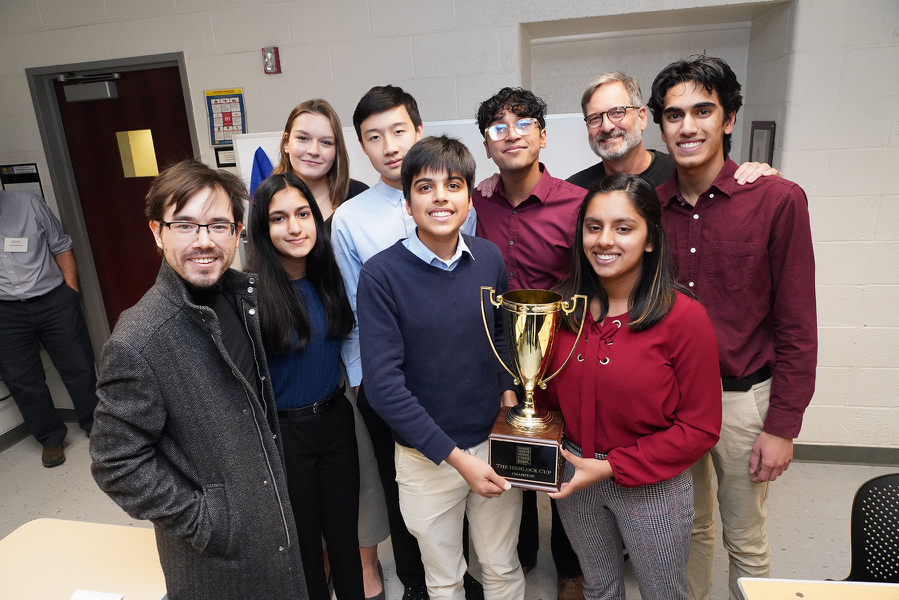 The 2020 Hemlock Cup was awarded to Greenhills Green. This marked the third time in seven years that AA Greenhills School has claimed first place in the Bowl competition. The team had planned to represent Michigan at the National High School Ethics Bowl, held at the University of North Carolina in Chapel Hill in mid-April. In wake of the coronavirus pandemic, the annual event has been cancelled.
In every Bowl, all teams are accompanied by their faculty coaches—high school teachers who volunteer, recruit, inspire and guide their teams. The Bowl program often has an indelible effect on both teachers and their students. As University Liggett teacher Veronica Toth notes, "Bowl day made me feel enriched as an educator, like I was both learning and helping my students learn. Those days are few and far between sometimes, and I treasured this one."
Essential support for the Bowl after-school program for members of the Michigan Ethics Bowl League is provided by philosopher coach graduate students from the seven-year old U-M Department of Philosophy Outreach Program. The philosopher coaches travel to League schools during the fall term to teach the fundamentals of philosophy and introductory applied ethics. This year's U-M coordinators include Angela Sun and Kevin Craven. Likewise, graduate students and professors in philosophy from Western Michigan University, Delta College and Oakland University share their subject expertise with schools in their area of the state.   
The Bowl requires a veritable courthouse of judges. At the 2020 Bowl, 50 luminaries from philosophy, the humanities, the field of bioethics and the community volunteered to serve as judges. Several of them have been involved with the program since its inception and, in total, Michigan Bowl judges represent 12 universities and colleges spanning the state.
As A2Ethics founder Jeanine DeLay points out, this year's Bowl would not have been possible without the efforts of the 30 community volunteers who served as registrars, moderators and scorekeepers. For many of them, the Bowl has become an annual event.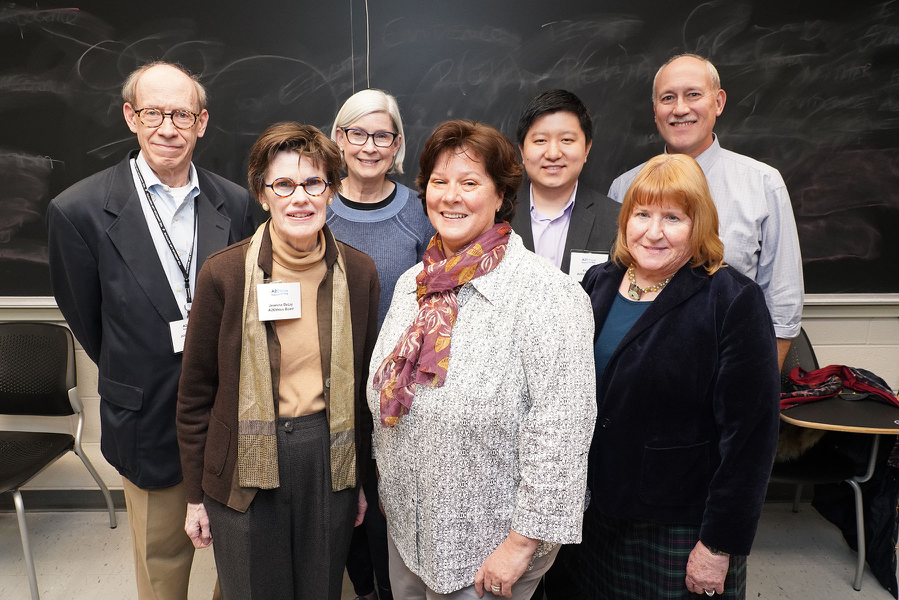 Organizers for the Bowl include (left to right) super-volunteer and scorekeeper John Lawrence, A2Ethics president Jeanine DeLay, A2Ethics board members Martha Bloom, Jane Miller, Elton Li, Teri Turner and super-volunteer and scorekeeper, Brian Williams. (Missing from the photo: A2Ethics board members Erin Mattimoe and Rick Price; and super-volunteers Stephanie and Scott Campbell, Alexandra Sarkozy, Tess Karwoski, Diane O'Connell, and Janet Kuhn.)  
DeLay notes that Bowl planners are focused on promoting the friendships and lasting opportunities offered through this recently established extracurricular program in Michigan: "As a school-based competitive event, the Bowl creates and sustains rivalries with each passing year. We are committed to ongoing discussions among Ethics Bowl League schools about how to best value each others' unique experiences and excellence, while urging all teams to show 'competitive grace' in their dealings with others." DeLay concludes, "We are not interested in eliminating or creating 'a new form of competition.' Competition requires decisions about the individual and the common good. The Ethics Bowl organizers are continually striving to create a fair competition that benefits all students as well as the teachers, coaches, volunteers and others participating in the program." 
SOME BACKGROUND ABOUT A2ETHICS AND THE BOWL
Founded in 2008, A2Ethics is an all-volunteer nonprofit dedicated to promoting ethics and philosophy initiatives through events, educational programs, and civic collaborations in local communities. Its many projects and activities include partnering with the University of Michigan Department of Philosophy Outreach Program to sponsor the annual Michigan High School Ethics Bowl.

The Michigan High School Ethics Bowl is an all-volunteer effort on the part of A2Ethics, University of Michigan Department of Philosophy faculty and graduate students, philosophy professors from colleges and universities and Ethics Centers across the state, high school teachers, local and regional case writers from a multitude of different professions, parents and members of the community at large.
The Michigan Ethics Bowl League is comprised of all high schools participating in the Ethics Bowl. As of 2020, 14 schools from 8 Southeast Michigan counties were members of the state league. All Michigan high schools are encouraged to join the League as well as the National Ethics Bowl movement.