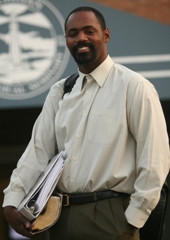 Introducing Michigan High School Swimming Coach of the Year: Kelton Graham
Last spring, the Huron High Boys Swimming team ended a 20 year drought by winning the state championship. As Coach Kelton Graham, now in his second year there, tells it, it was all about teamwork and motivation. He is too humble by half. A2ethics.org's interview with Coach Graham, told us otherwise: his motivational skills and trust in his swimmers were also vitally important to the team's success.
While we could be ethics skeptics about 'coaching speak' on motivation and its ties to manipulation, what separates Kelton Graham from other coaches is that he is both sincere and honest. He trusts his athletes. And what really comes through in our discussion about the ethics of his coaching work, is that Coach Graham believes in his athletes and truly respects this belief too.
This podcast has force too. When we asked about the ethical problem of unfair advantages in swimming, from not having access to good pool facilities to suiting up in the new LZR Speedo which costs a cool $550.00, Coach Graham turned our world around.
We do not want to say that Kelton Graham is a pioneer, because that would only bring up the other winning swimming teams in Ann Arbor. No, Coach Graham is what we think all high school coaches should want...and that is to move their athletes to be their best. It is not about the coach, it is about the kids.