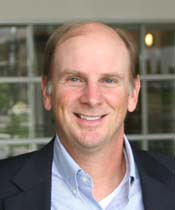 The Values We Carry: Don Welch Discusses Academy Leadership
Our conversation with Don Welch, PhD, President and CEO of Michigan's member-owned Merit Network begins with a lively discussion on a very pressing concern: how to ethically train students and workforce personnel to protect and defend institutional networks against cyberattacks and security breaches. As an early innovator in computer networking services for researchers and educators, Merit is uniquely positioned in this field. 
And there is no one better qualified than Dr. Welch to talk about the ethical issues presented in this unique type of security education--one which requires learning that can endanger others and knowledge that can be employed to harm teachers and fellow students. As a former officer in the U.S. military and member of Delta Force, and later as a professor at West Point, Dr. Welch co-authored a paper that addressed some of the ethical qualms voiced within the military about teaching hacking--to counter hacking. 
To be sure, it seems odd--to paraphrase Dr. Welch--that military leaders would have ethical worries about training in hacking to counter cyberattacks--given the military's role in society.  And yet, as Dr. Welch also tells us, the military in its enduring efforts to instill a strong ethos and impart leadership skills to all of its members, can offer other institutions outside the government--from education and research to large multinationals and small companies--a more critical practical knowledge known as values-based leadership. 
Dr. Welch's passion and abiding interest in values-based leadership is reinforced through his affiliation with Academy Leadership, a group of other corporate executives and like-minded service academy and military alums, interested in applying the central ethical virtues of military leadership to the workplace. Among them--trust, obligation, knowing the right thing vs. doing the right thing, integrity, and above all, accountability.
Yes, we have heard about several of these virtues before, described in the vast literature and resources on leadership. Yes, it is true that Academy Leadership offers more than ethics seminars and charges for its faculty's expertise. And yes, we can listen for free to generals strutting across the TED talk universe about how their military leadership skills are transferable to other areas of our own lives. 
That said, what makes this conversation compelling is what is implicitly recommended in Dr. Welch's appeal that we all can and need to be leaders, and thus accountable, in our professional roles today.
Let's consider it this way. Communication and information networks have given all civilian institutions, not just the military... a stake in security. This means that everyone is called on to have leadership skills and an awareness of ethical boundaries-- because the fact is we now have tools at our disposal that can do consequential harm to others. What we can take away from the military's emphasis on ethos and constant focus on the values we must carry with us, critically includes belonging to a group that is greater than ourselves. Equally essential, these teachings are designed to stay with us when we move on in our professional roles and join other communities.