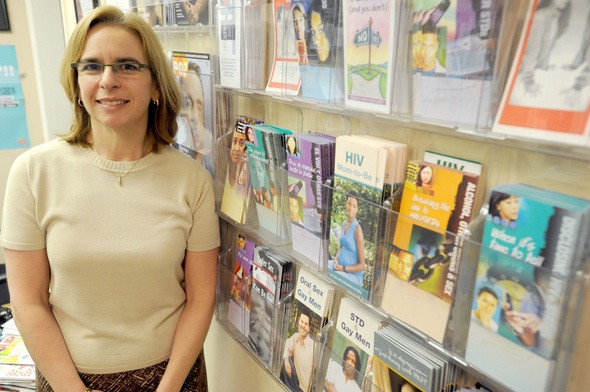 The Good Work of Michigan's HIV/AIDS Center
Our first discussion with Jimena Loveluck, President and CEO of the HIV/AIDS Resource Center, was almost five years ago. Months before, A2Ethics had sponsored some talk-backs in concert with the Ann Arbor Blackbird Theatre's dramatic readings of Tony Kushner's "Angels In America," a play about the devastating consequences of AIDS at the end of the 20th century. The arrival of "Angels" changed many minds about the ethical and political nature of epidemics in our country. For this reason, we wanted to learn about the current ethical status of HIV/AIDS in our own county, and what had and had not changed in the early decades of the 21st century.
What we took away from discussing a wide range of issues with Jimena, convinced us that we should come back to talk again. We sensed then that it was essential for A2Ethics to stand with HARC. Not just because of the essential education, testing and social/medical liaison services HARC offers in Washtenaw county as well as three other contiguous counties in SE Michigan.  But also because attention to and awareness of the prevalence of HIV/AIDS--to many Americans seems to have had its stand. And its moment. Attention to HIV/AIDS--and our attention--has turned elsewhere and outside the U.S.
And yet, as Jimena tells us in this podcast, there are currently almost 1.2 million people in the U.S. living with HIV infection. Further, almost 1 in 5 of these people (18%) do not know they are infected. Since the beginning of the epidemic, over one half a million people have died with an AIDS diagnosis. Over the past two years, as new mind-changing documentaries, among them United in Anger have been widely shown across the country, we talked with Jimena for the first time about whether a few of the ethical issues swirling around HIV/AIDS early on, have been "resolved." Or more reasonably, given the slipperiness of "moral progress," whether new or different ethics issues have become higher priority, especially in policy circles. Among the currently most pressing issues Jimena wanted our listeners to know about: increasing difficulties of access to effective treatments and services; dilemmas posed by the medicalization of HIV/AIDS and its impact on quality and service availability; and the diverse, and sometimes conflicting, obligations of communities in caring for those living with HIV/AIDS. 
While it is not part of our mission to publicly investigate and name organizations whose work we think scores very high marks in ethical screens and audits, we think that HARC, led by Jimena Loveluck, her staff and volunteers should receive much more public recognition and attention for the work they do on our behalf. 
Consider the acronym...HARC. It is true--at A2Ethics, we are no longer talking as much about angels as we were when engaged with the drama of "Angels in America" and its ethical dilemmas.  But HARC, like the "Hark!" of angels and other messengers inhabiting different worlds--serves as a frontline deliverer of news--both good and bad. We wish that there were a kind of "moral progress" occurring with our attitudes toward HIV/AIDS to the benefit of everyone. We wish that there were new scientific and medical progress today to end the HIV/AIDS epidemic. In our community, in America and outside the U.S.
Until the epidemic ends, however, we will continue to listen to the message and applaud the ethical legacy of HARC.