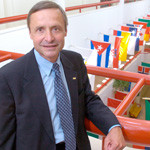 A Business School Leader's Dilemma: Making Ethics Education Worth The Price
Our Michigan Ethics Economy Initiative took us recently to Eastern Michigan University's College of Business to talk with Dean David Mielke. Many on Main Street blame the financial sector collapse and economic crisis on a colossal failure of ethics and moral accountability by bankers on Wall Street.  We wanted to ask: what are business educators doing to help inform the ethical attitudes and actions of their students, the new generation of business leaders, so that in the view of many reformers, we do not ever have to confront such a crisis again? 
Dean Mielke doesn't regard himself as a crusading reformer. He believes strongly, however, that it should be the role of business schools and their faculty to create an all-encompassing ethos culture at their schools, where as the word ethos implies, doing the right thing becomes the only way students see doing business when they go out into the real world. 
At the same time, Dean Mielke was very clear about the challenges schools that teach business in a global economy face now and in the future. In his view, business competition and thus, the need to pursue competitive advantage to stay in business, will only intensify. This means that ethics will be under competitive pressure too.
For business schools then, the greatest challenge may well be ensuring that ethics training and participating in an ethos culture is worth its price, giving added value, and most importantly, that being ethical is regarded by the new generation of  business leaders as the greatest value of all.