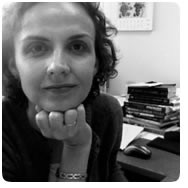 Beyond Privacy: Ethics and Our Social Networks
We think our a2ethics.org talk with Nicole Ellison is a bit unique. Ellison is an Assistant Professor in the Department of Telecommunication, Information Studies and Media at Michigan State.  Fortunately for Bart and Jeanine, our discussion did not just go over the same ethics ground usually covered whenever social media are mentioned: privacy and predators, and predators and privacy. To be sure, we considered privacy and tried to pin its elusiveness down. But for the most part, we ranged far and wide on the social media map. We talked about Nicole's research on how college students think about and use Facebook as well as her work on online dating members' self-perceptions and whether social media influences how we look at friendship.
Bart and Jeanine also speculated with Nicole about how social media may scramble our sense of self, and perhaps even cause us some anxiety when we realize our bosses, our mothers, and our friends belong and contribute to the same social media sites.
We discovered along the way how we may want to examine social media's impact by considering it as a tool to build social capital between ourselves and our different communities. We learned what social capital is.  And we got some tips from Nicole on individuals can increase their good social capital. We had alot to talk about and we did, with Nicole giving us some new direction.
When we sum up our interview with Nicole Ellison, we decided on our way back from East Lansing that we plan to continue to find out more about these questions:
Do we change our ethics when we communicate online? And should we?