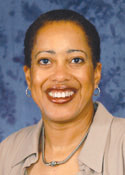 The Pediatric Bioethicist Who Builds Trust: Dr. Kathryn Moseley
Public awareness of pediatric bioethics dilemmas is often limited to media reports dramatizing conflicts over the rights of families and doctors in determining the circumstances for performing highly experimental surgeries or limiting life-saving treatments to seriously ill newborns, today remembered as educational case studies or lawsuit names--from Baby Fae to Baby K. 
Yet, when most families take their children to the doctor, they do so in circumstances that recommend more common treatments that require fewer stark, but nevertheless, fraught ethical choices. Their ethical encounters revolve around learning to trust what they hear, to have confidence in the information they receive and to consent to the care their pediatrician advises is best for their children after they leave the doctor's office. 
One pediatrician committed to expanding awareness about the broader and more common dilemmas in pediatric bioethics is Kathryn Moseley, Assistant Professor in the Department of Pediatrics and Communicable Diseases and core faculty member of the Center for Bioethics and Social Sciences in Medicine at the University of Michigan Medical School. Dr. Moseley spent time talking with us about how she sees obstacles to and opportunities for creating trusting relationships among and between parents, children and pediatricians.
In no small measure, Dr. Moseley, also a faculty member in the Child Health Evaluation and Research Unit (C.H.E.A.R.), became interested in studying issues of trust because of her numerous experiences in dealing with racial and ethnic disparities in treatment and care that she routinely faces in her work. Such inequitable differences are of great consequence because they result in poorer health outcomes and premature death for persons of color. Dr. Moseley's comments about her research and clinical work with African-American parents challenge us to consider ways to end racial and ethnic health disparities caused by exclusion, discrimination and failures of justice.
Not only does Dr. Moseley talk with us about how she decided to study racial and ethnic disparities in health care and their relationship to trust, she tells us how she became a pediatric bioethicist. Hers is a fascinating, thoughtful and sometimes, seredipitous journey. And during this journey, she mentions more than a few mentors she has worked with and admires.
Today, when there are many degree programs in bioethics available, Dr. Moseley is an admirable mentor herself. She is one of the first African-American women to distinguish herself in the emerging and growing field of pediatric bioethics as teacher, researcher and clinician. After our discussion, we continued to think about her high standards and open-minded approach to building and sustaining trust. We came away thinking that it was one of those conversations where walking out the door you feel differently about an idea--in this case being more confident about building and sustaining trust--than when you entered. And we have a feeling Dr. Moseley's parents and families leave her office empowered to trust her recommendations and advice as the best for their children's health and well-being too.