U-M Ethics Team
In late 2008, A2Ethics was a start-up working out of a cramped space in an Ann Arbor home, and NOT-- as most start-up stories have it -- in a garage. Across town, a group of visionary Michigan undergraduates were hard at work forming the University of Michigan Ethics Bowl Team.    
Since our start-up stories, we have both strived and survived, helped considerably by the wisdom and largesse of individuals—and of crowds as well.   
At A2Ethics, we knew from our initial podcast with members of the 2013 U-M Ethics Bowl Team, that this was an organization worth more than just the moral backing. In turn, the U-M Team has supported us: as knowledgeable judges in the expanding Michigan High School Ethics Bowl and as exuberant and amiable team members in our signature event: the annual Big Ethical Question Slam.   
As ethics entrepreneurs, we have both become an integral part of the Michigan ethics venture scene. While A2Ethics is developing a new kind of civic involvement through its unique community events, the U-M Ethics Bowl Team has been creating a new student organization and serving as the new face of Ethics Bowl competitions.
Our comity and friendship with the U-M Team gives us the chance to do two important things:
 Publicize the phenomenon known as the Ethics Bowl in both colleges and high schools; and
 Showcase the U-M team and A2Ethics High School Bowl programs.  
What Is Ethics Bowl?
Ethics Bowl is an outside-the-classroom educational/social activity as well as a competitive event. As a student-run organization, the Bowl is open to all undergraduates at colleges and universities across North America, who are also members of the Association for Practical and Professional Ethics (APPE). The Association produces and hosts the annual Intercollegiate Ethics Bowl competitions, beginning with regional events and culminating in the Nationals, where the championship is decided.  
The competitive events are what we like to call Bowl Day. During these all-day judged tournaments, student teams from various schools pair off to present their best responses and reasoned arguments to several ethically entangled scenarios known as the Case Studies. Their listeners include three judges, other teams and interested supporters.  
Is Ethics Bowl a Sport? 
More than a few people have described the Ethics Bowl as a "sport for the brain." For fans new to the Bowl, this is an apt analogy. In sport lingo, we might describe it this way:
The object of Ethics Bowl is for the players (i.e., the student teams) to train. They do this by learning the philosophical fundamentals and reasoning skills necessary to discuss a set of challenging ethical Case Studies, in front of and along with three expert judges, a similarly trained opposing team of players and Bowl supporters who--like diving fans--are free to breathe and clap after a given round. If we were to wax philosophical about the Ethics Bowl, we would argue that it is both a judged performance and a refereed game. As in snowboarding and gymnastics, performances include form or an aesthetic component. Likewise, as in the games of basketball and hockey, adherence to procedures or the rules is essential. And Finally. How you play the Bowl DOES Matter. It is an Ethics Bowl. 
The Case Studies

Without Case Studies, there would be no Bowl. So what exactly are they?
They are short, written scenarios that pose:
ethics predicaments, quandaries, dilemmas, pickles, messes, and jams…whatever language you use for--
                  complex issues and situations that require
                     moral trade-offs, character tests and/or decisions that trigger good and bad consequences
                        no matter what.
What distinguishes the Case Studies in Ethics Bowl is their real worldliness and the diversity of professions and occupations from which they are drawn. These typically range from medicine and education to business and the military. Topics are equally eclectic, touching on everything from personal relationships to current social and political problems with ethical dimensions.
Memorable Case Studies 
With Case Studies, there are always favorites--memorable scenarios that individual team members think are the best. When we asked 2015 co-chair of the U-M Team, Cullen O'Keefe, which Case Study he thought most compelling, he did'nt hesitate to name "Unrestrooms," a case about school/locker room bathroom use involving transgender students. It was a case that we found compelling too—so we invited Cullen to do a podcast about the arguments he and his teammates prepared from last year's Bowl competition. Current A2Ethics Board member Elton Li, and member of the first U-M Bowl team, remembered a case on first amendment issues. 
You can choose your own favorite case from the complete Bowl Archive.   
Introducing the 2015-2016 UM Ethics Bowl Team
We could paint the U-M Rock to promote the team. But that would be temporary. Besides, we have more to tell about each team member as an individual than we have paint for the U-M Rock. 
U-M Senior Cullen O'Keefe, who co-chairs the Ethics Bowl at Michigan, is majoring in both Philosophy and Ecology & Evolutionary Biology (EEB) with a minor in Gender & Health.
Originally from nearby Birmingham, Michigan, Cullen joined Ethics Bowl during his sophomore year after learning about it from an interview  posted by A2Ethics with then-co-chairs Tracey Fu and Hasenin Al-Khersan.  Since then, Ethics Bowl has been a central part of his college experience. Cullen's ethical interests include bioethics, social justice, action theory, and political philosophy. He works as a resident advisor in West Quadrangle with the Michigan Community Scholars Program (MCSP), a social justice living-learning community. In addition, he volunteers with the Sexual Assault Prevention and Awareness Center (SAPAC) and supports TransForm (a transgender rights group affiliated with the Spectrum Center). Cullen has studied at The Hastings Center and worked for the National Center for Transgender Equality. For fun, he likes to read, run, watch TV, listen to podcasts and write.
It was a freshman-year course entitled Moral Problems and Principles that led Kate Leary to her current major in Philosophy. 
Within the field of bioethics, her main ethical focus, she is particularly interested in patient autonomy within the patient-physician relationship facilitated by full and honest disclosure from both sides. Kate also has an abiding interest in political philosophy. In addition to her studies in philosophy, she has taken numerous courses in physics, biology and chemistry in hopes of attending medical school after graduation. Kate's long-term goal is to incorporate her love of ethics into her life's work as a physician. Outside of the classroom, she works as a research assistant for an endocrine surgeon at UMHS, processing CT scans of Adrenal Cortical Carcinoma patients. You can also find her working as shift manager at Sweetwaters Coffee and Tea. In addition to volunteering at the Ronald McDonald House, she uses her free hours for reading, writing and spending time with family and friends. 
The Intercollegiate Ethics Bowl Competition Season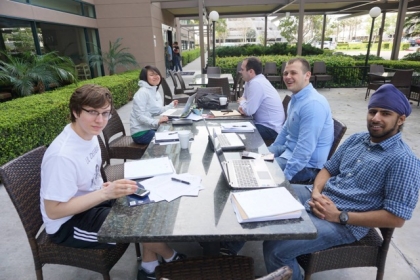 The U-M Team is always training for the upcoming Regional Bowl. At this very moment, they may be watching films, listening to motivational speakers, running up and down the Big House stairs in khakis, and doing 'two-a-days' in preparation for the Regional Bowl. All, of course, to secure a place in the National Intercollegiate Bowl.
Among their competitors are excellent teams from across the state: Oakland University, Adrian College and Grand Valley State University. And then there's another state team for the record books: the Western Michigan University Team, winners of the first ever Intercollegiate Bowl in 1995.
Today, the Intercollegiate Ethics Bowl has grown to include hundreds of teams from colleges and schools across North America. Naturally, we think our own Michigan Team will emerge as The Leader and the Best.
Go Blue!  For more information on the U-M Bowl Team, you can go to the Maize Pages. 
Developing High School Teams
The incredible growth of the Intercollegiate Ethics Bowl has generated enthusiasm and support for Bowl programs in high schools. After all, "brain sports" need developmental AAA leagues too.
Right now, High School Bowls are being organized across the nation. We're happy to report that Michigan is in the vanguard.
In 2021, 13 schools from Michigan belong to the Michigan High School Ethics Bowl League. The Michigan state champion and holder of The Hemlock Cup, joins other regional winners at the annual National High School Bowl in Chapel Hill, North Carolina in April.