The A2Ethics podcast library speaks volumes about our steadfast and enduring interest in discovering and understanding what people think ethics is. And what ethics issues involve. And how ethics figures into their public lives.
Ethics Works


We are especially interested in how ethics works. That is, we want to know how people recognize issues of ethical significance in their work lives and in their professions. In Working Ethics, our signature podcast series, our goal is to talk to as many people in their 20s and 30s in as many fields as possible, in order to ask them an essential question: can you tell us about the ethical meaning and issues you face in the work you do?      
Other podcasts in our expanding collection cover specific work-related topics in professions and fields routinely faced with ethical quandaries. Among these series: Communications & Digital Media, Education and Teaching and Health Care and Ethics.  


Equally important are our efforts to interview the many professionals who actually work or volunteer in fields where ethics is the focus. We have begun this quest in our home state of Michigan as part of the Michigan Ethics Economy Initiative. From discussions with corporate compliance officers to medical ethicists, we are learning about the value to our state and region of individuals doing the lion's share of the work of ethics: contributing to ethics practices and writing guidelines, and advancing research and knowledge in theoretical and applied ethics fields.     
Ethics Programs With an Edge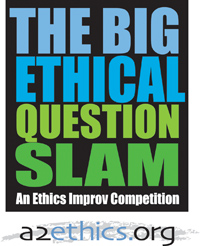 We believe our A2Ethics.org programs and events are podcast-worthy too. Our library includes podcasts presenting our Generational Leaders forum on education reform and video highlights from our Ethics Without Borders programs about attacks against culture and on education around the world. Likewise, the Atlas of Ethics resource opens with an exploration of the contemporary relevance of the ancient Chinese philosopher Confucius. Finally, our major event on video, the annual Big Ethical Question Slam on video allows you to answer the big dilemmas on your own. Or with friends.     
No Theme Songs
No doubt, you will discover we prefer to take time: these conversations are long form and rarely edited. Don't misunderstand. We like short takes too. And musical theme songs. It's just that we love to hear people talk. We also love to talk. And we can't agree on a musical theme. 
Ethics in the Works    
We have...Plans. Our current ethics in the works: Your Favorite Ethics Documents and Artifacts; and Ethics in a Cast. For now, they are plans-in-waiting.
Podcasts for All  
Do we have podcastmania?  Of course. There is a podcast, or two or three, in everyone. And did we mention that our series are in the podcast cosmos of iTunes? Just check out A2Ethics.org: Ethics with an Edge.  
So, sample or take them all in. And participate. If you have an idea for a podcast about the ethics of your work or about ethics in general, please send us message: [email protected].