How to Host a Slam
Originally, we envisioned the Slam as a community event--a fun opportunity for colleagues and friends to gather for an evening of eating, drinking and thinking on their feet about ethical pickles and sticky situations. We also thought it would be a unique fundraiser for A2Ethics and a good way to publicize our events, programs and exhibits.
Over time, the Slam has become an annual community gathering. In fact, one group of dedicated Slammers tell us they wouldn't miss the event for anything. As a fundraiser, it is less than stellar. Even so, we love the Slam and look forward to improving and broadening the experience for the teams, their supporters, the judges, the volunteers and the audience.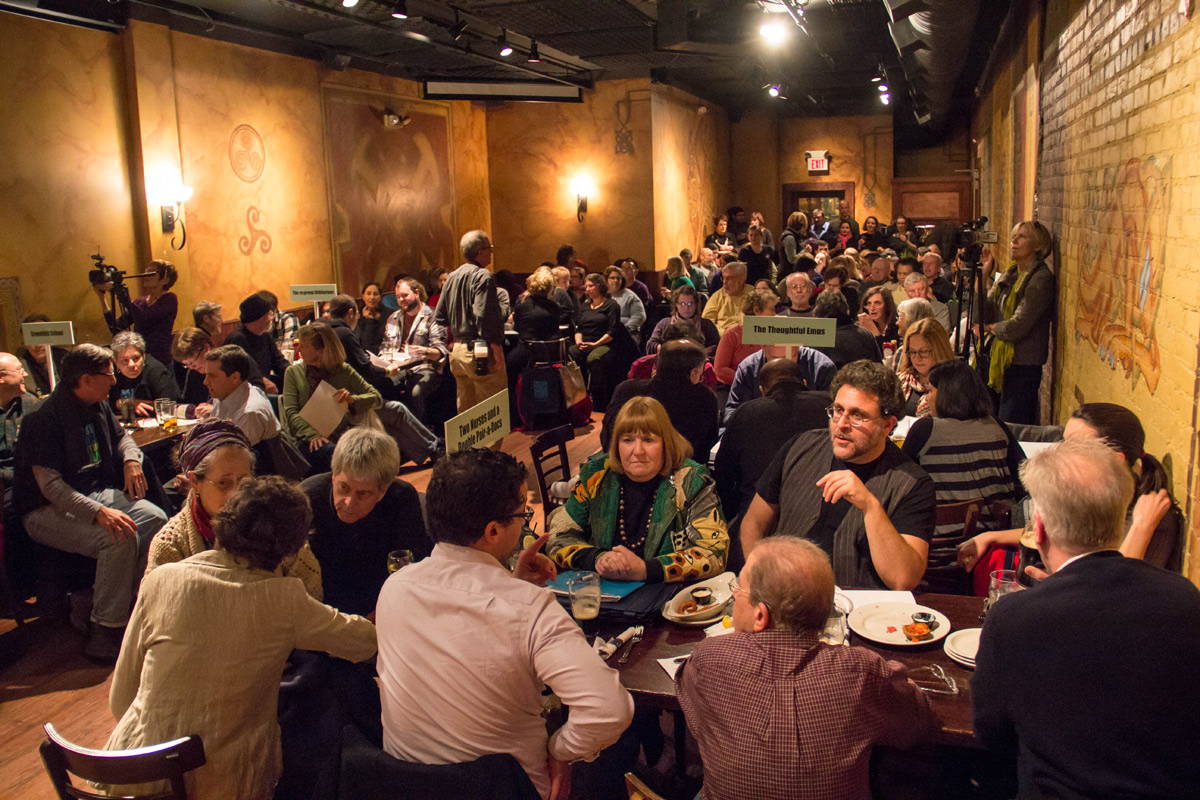 We are thrilled that there are other groups who have taken the Slam to heart. Given the constant flow of inquiries we get about Slam logistics, we have put together a basic guide to hosting your own slam.
Your D.I.Y. Guide to the Slam 
Set a date and a time for your Slam. Then convince a local pub or restaurant owner to give (not rent) you a large space for at least two hours. If possible, the pub should have wifi and a great sound system. If not, you'll need to find your own great sound system.
Put out a call for Slam questions. Or make up your own questions. Topics can be general or highly specific. They can even focus on a single profession, such as business or education. You are also welcome to borrow from our Slam Question Archive.  
Once you have a minimum of 20-30 questions, edit them to no more than 150 words each. Then establish rules and scoring procedures. If you like, feel free to use the A2Ethics Slam Rules and Score sheets.
Recruit three judges who have a working knowledge of the topics to be discussed. It's also a good idea to have at least one judge who teaches philosophy at a local community college or nearby university.
Recruit volunteers. Slams run smoothly when you have a voluble and enthusiastic MC, a calm and cheerful Hat holder for drawing the questions, a time-keeper with a heavy metal voice or piercing whistle, and at least two people who know their numbers and can tally the final scores. Since 2017, we have relied on an electronic scoring system. You'll also want a Slam photographer on hand, even though selfies will be rampant throughout the evening. 
Decide whether or not to award a cash prize. The A2Ethics Slam includes a $600 prize for first place. We pay for this, in part, through a now-and-again minimal ticket charge ($5.00 at the door) and a standard registration fee for each team ($35). We also offer a few other prizes. The first place winner gets the Philosopher's Hat (Ann Arbor Slam) or The Golden Winged Sandal (Ypsilanti Slam) for a year. Like the Stanley Cup, the Hat and the Sandal travel with the winner. Second place finishers receive philosopher refrigerator magnets. And The People's Choice Award includes breakfast gift cards from a local restaurant.
You may also want to secure one or more event sponsors. Depending on whether you decide to have a T-shirt or other memento for team members, costs will vary. A2Ethics spends about $2,500 each year on its Slam.
Recruit, recruit and keep recruiting for teams. Make posters and flyers. Send out e-mail blasts and use all social media to get out the message. Ask friends and colleagues to spread the word. Contact local colleges and universities as well as people you know in community organizations. Send out a press release or two. The benefits of the Slam are pretty obvious to most organizations. It is, quite simply, a terrific team builder—something we hear again, again and again.
It's a good idea to produce a simple program for audience members. If you have a sponsor, be sure to give them prominent thanks and credit. And include a brief paragraph on each team in your program. If space allows, invite teams to bring information about their organizations to be used as table-top handouts.  
One month before the big event, send your Slam questions to the judges, along with a list of rules, scoring criteria and a description of their role and responsibilities. Worth noting: we always provide our judges and volunteers with a free meal and drinks.  
The Slam works best if it is not entirely improvised. So, about 10 to 14 days before the event, send the list of questions to all the teams. This will allow them to get together for a prep and strategy session, which is also a good team-building exercise. Different teams prepare for the Slam in their own way.  Some may choose to read our own brief Slam Prep Primer, based on what we have learned. 
A week before the Slam, go to the venue and make sure the tables can be arranged so that teams can sit together. You'll also need a head table for the judges and Slam volunteers, and another table for ticket-takers (if you plan to charge an entrance fee). Be sure to test out the sound system.
On the Big night, have plenty of scorecards and pencils on hand for audience members. Make sure you have the judges' scorecards ready for them as well. Also don't forget to make signs for the teams so participants know where to go when they arrive. And keep in mind that the teams and their supporters will probably arrive early, in part so they can get a good seat and grab a bite to eat.
Once the Slam begins, hand out score sheets to the audience members who want to participate in selecting The People's Choice Award. Your lively MC will then summarize the Slam rules and explain how the scoring works for The People's Choice Award. The timer will keep close track of the time throughout the evening. Based on our experience, a good Slam should last approximately two hours, and not much longer. 
When the Slam ends, there is some downtime while the scores are tallied. During the wait, you may want to have the teams and audience pose some questions to the judges. It is best if these questions are different and separate from the Slam questions. It's also best if they are somewhat silly and outlandish, thereby giving the judges a chance to show their own "thinking after drinking" prowess. 
Above all, don't forget to enjoy organizing a Slam in your community. Have a great time at your own Slam! 
A Growing Trend
To date, we know of Slams planned for Seattle, northern California and upstate New York.  A slam was also held in East El Paso, Texas, sponsored by a local Rotary club there. Here in Michigan, the Emergency Department faculty of the Wayne State University Medical Center hosted a slam for their physicians and residents in 2014. Beginning in 2018, the Richard Richards Institute for Ethics at Weber State University in Odgen, Utah sponsors a Slam on a particular topic. In 2019, the Utah Slammers discussed the ethics of technology. 
Our neighbors to the north have taken to Slams. The Winnipeg, Manitoba Association for Rights and Liberties has now hosted seveal slams at a Winnipeg watering hole. In April 2015, we  hosted our first and only International Slam-Off with the Winnipeg group.
The Slam Of Your Own Design: Tell Us About It
We would love to hear about your own Slam. Where did it take place? Who was involved? Where did your teams come from and what organizations did they represent? What were some of your best questions? How did you promote the event and reach out to people in your area? What did you learn? And what, if anything, would you do different next time? Send us a message using the form below and let us know!