The Unique Appeal of A2Ethics.org: Giving ethics ideas and points of view a permanent  voice -- and place -- in our corner of the world.
Why Give to A2Ethics.org?
Your gift to A2Ethics.org is based on your commitment to give ethics ideas and practices a vital role in the many small matters and large public decisions we all make about how we choose to live in our community.   
What is Your Gift to A2Ethics.org Good For?
A2Ethics.org has several current projects and new initiatives we are asking you to help us fund. Among them our:
Noteworthy podcast series on iTunes, Working Ethics, popular interviews with people in their 20s and 30s about the ethics of their work. Our newest podcast collections, including City & Local Ethics, discussions with elected officials and community leaders about local government ethics issues and policies. 
Generational Leaders mentoring program, bringing together locals in their 20 to 30s with locals in their 50s and 60s to identify common ethical dilemmas.  
Ethics without Borders, a biannual community event highlighting those among us whose work across the world emboldens us to speak out for what we value most.
Michigan Ethics Economy Initiative, career pathway talks with people from around the state who work and volunteer in various ethics-related fields.
Original, curated productions and exhibits showcasing ethics issues in fresh, remixed, comic, serious, and above all, challenging and provocative ways, from our Designs for Education: Protecting Schools from Attack Exhibit to our Big Ethical Question Slam.
What Is a Good Amount to Give?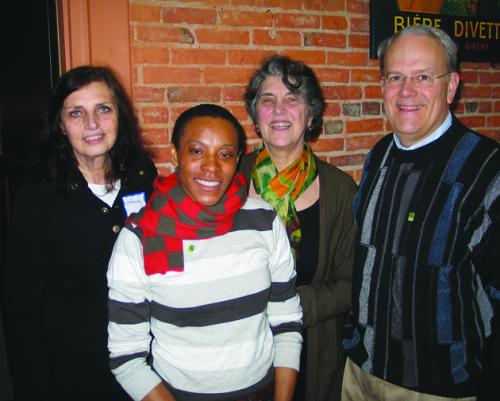 Our giving goal for the entire year is both modest and manageable. We want to raise $20,000.
This amount will allow us to meet our annual expenses and plan a major new project during 2013: an Ethics Bowl for area high school students. As an all volunteer organization, we have almost no administrative costs. Our fundraising expenses come from our annual appeal and total around $350-$400.
There are other benefits in giving to A2Ethics.org--beyond our fiscal efficiency. A2Ethics.org is a 501(c)3 organization, which makes your contributions tax-deductible. Further, we have several achievements we plan to build on--from our 70 audio podcasts, including the novel Working Ethics series to our sponsorship of imaginative community collaborations, especially the annual Big Ethical Question Slam. These successes give us the confidence to carefully grow--for good.  
Whether you give 10 or 1,000 dollars, we value your expectation that we will put your gift to good use.
How Do You Know Your Gift Is Being Put to Good Use?
As a community-based organization, A2Ethics.org relies on community support and your belief in our mission. By giving to A2Ethics.org, you expect us to use your money to maximize your good. As civic ethicists, who try to encourage ethical awareness in our community policies and decision-making, you should also expect us to be financially transparent and to invest your gift wisely ... all the while being ethically aware.
We thank you for your confidence and trust  that we will invest your gift transparently, wisely ... and with ethical awareness.
Please Give Online.
A2Ethics.org online gifts are securely processed through PayPal. You have a choice of using a credit card or a PayPal account to make a contribution. To ensure that you get a receipt for your gift, please include a mailing address.
You can check one of the amounts below and click on Donate:
A2Ethics.org values your privacy. In making your online gift, the transaction via PayPal is encrypted. We never see or have access to your credit card information. Ever.
In addition, if you prefer to have your gift listed anonymously and do not wish to have your name published in any A2Ethics.org promotional materials, please check the appropriate box above.
To learn about the most current A2Ethics.org events and news, check "Please add me to the A2Ethics.org email list" in the appropriate box above. 
Please Give by Mail.  
Complete the gift form and mail it to:
A2Ethics.org
P.O. Box 131384
Ann Arbor, Michigan 48113
If you have any questions about giving online or by mail, please contact us at: info@a2ethics.org.
Thank you very much for your decision to support A2Ethics.org.